Ahh...teen romance! Who didn't dream of finding that perfect guy when we were lovestruck teens? But do they really exist?
Harley thought she knew love once and when she lost him, she felt she didn't deserve to be loved again.
Mason blamed himself for his father's death. And when his mother moved them from California and the surf that he loved to a small town in the middle of the country, all he cared about was turning 18 and heading back to the ocean.
But when Mason stumbles across Harley, he starts to think that he's at least found someone or something to keep him occupied for the next few months until his birthday. Little does he know that life works in mysterious ways.
When It's Least Expected
is a sweet teen romance, but what would the teen years be without some teen angst? There are a few little surprises along the way. Overall it was an enjoyable tale and I'm looking forward to reading the next in the series so I can see what happens with David and Abigail.
I'm giving it 4 stars!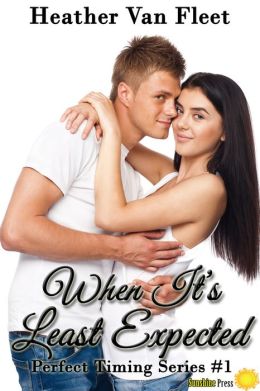 To learn more about Heather Van Fleet:
Heather on Facebook
Heather Van Fleet
When It's Least Expected on Amazon
for your Kindle
Paperback
Barnes and Noble
for your Nook
And in case you're wondering, here is the book blurb:
Recommended for 16+ due to some language, underage drinking, and slight sexual content

Moving on after a tragedy can be impossible, especially when you've been dealing with those tragedies for over two years. But it's her senior year, and Harley Anderson is more than ready to do just that, even though the skeletons in her closet can't exactly be hidden.

Enter Mason Daniel, the egotistical, sexy, surfer boy from California. A boy with his own hidden demons, and an even bigger secret agenda. Mason isn't right for Harley. He knows this better than anyone. He's the epitome of a runner, a guy who takes what he can get, only to split a short while later. But he can't deny the emotions that Harley brings out of him, so he's going to break his rules for once.

He should have known what it would lead to…

Two kindred souls, both lost and then found. Will they fail in their search for contentment and happiness, or will they instead find true love when it's least expected?
Happy Reading!!