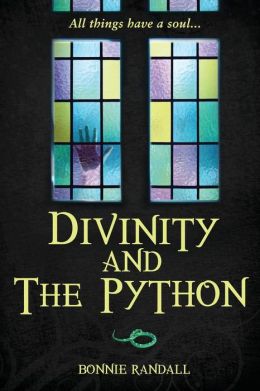 T
he driver's window—perfectly intact when she and Andrew had arrived this morning—was now a shattered chrysanthemum of broken glass, and a weapon, a hammer, hung like a calling card from the frame. She grabbed her cell. Their quarry was clearly on the loose. Finger on speed dial, she reached with her free hand for the hammer.
The Python is the hottest nightclub in freezing Edmonton: all skin, no substance, and definitely no spirituality. Bartender Shaynie Gavin knows better—all things have a soul, and on an evening she's come to call Hellnight, The Python left a dark stain on hers. Now Shaynie's moving into another place that's more than what it seems—Divinity, the old morgue she's refurbished into a Tarot lounge. With all her passion focused on launching the venture, Shaynie is rattled when Divinity appears to orchestrate a connection between her and superstitious hockey star Cameron Weste.
Shaynie's reaction is nothing compared to The Python's. Vandalism, violence, an omniscient stalker— the parallels to her lost, bloody Hellnight in the club are unmistakable. But equally undeniable is the protection emanating from her old morgue.
All things have a soul, and Divinity's seems aligned with Shaynie's own—but whose is twinned with the Python? As Shaynie starts hunting her stalker, it's clear only one soul will survive.
A fast-paced, edge-of-your-seat, supernatural mystery, "Divinity and The Python" grips the reader from the first page to the shattering climax.
Praise for "Divinity and The Python":
"This book was completely beyond anything I have ever read before."
" This was a fabulous, well paced storyline and unique plot . . . Can't wait for another book from this talented author!"
"Beautifully written with evocative images, I offer this warning – expect tears - in a good way."
Bonnie Randall
is another author that I am not currently familiar with but when I asked for anyone who might want to donate to this auction, she stepped up. So I will be taking the time to get to know her and I'll be adding
Divinty and the Python
to my ever growing TBR. You can learn more about Bonnie by checking out her
Facebook page
.
Rules for Bidding (Please read ALL rules before you bid,)
1. Opening Bid is $5, with bids increasing by a minimum $1 increment.
2. Bidding closes at 12:00 Midnight (eastern) on Friday, Oct. 10th. Any bids posted on Oct. 11 or later will not be counted.
3. Winning bidder must make donation at http://www2.jdrf.org/goto/SupportRaquel by Noon (eastern time) on Friday, Oct. 17th. (If the donation is not received by the deadline, I will contact the 2nd place bidder.) Note: For online donations, you will need to use a credit card. If you don't with to us your credit card online, you must contact me about submitting a check. However, if you live outside the U.S., we can only accept online credit card donations.)
4. Post your bid in the comments of this post!
5. Follow the author and do not forget to say THANK YOU to them. This would no be happening without them.
If you have any questions, please let me know ASAP!